Dr. Benny Chan has received a Leadership Development Award from the Younger Chemist Committee of the American Chemical Society. This award will support participation in the YCC Leadership Development Workshop, January 23 to January 25, 2009, in Ft Worth, Texas. With over 70 applications, only 15 funded awards were given.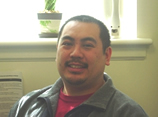 This YCC program recognizes emerging leaders in the profession and helps them prepare for the leadership opportunities at volunteer organizations, such as ACS, and in their professional career. YCC recognizes Dr. Chan's past contributions and leadership qualities. The committee also believes that he has tremendous potential to be a successful leader both within the profession as well as the ACS.
During the workshop, participants will engage in discussions about the characteristics and behaviors of effective leaders, identify leadership skills, develop a personal leadership development plan, and learn about leadership opportunities in the American Chemical Society.