Dr. Stephanie Sen
Professor
Education
B.A, (with honors) Bryn Mawr College
Ph.D. Stony Brook University
Post Doctoral Fellowship Research Institute of Scripps Clinic, Stanford University.
Research
The objective of my research program is to determine the structure and function proteins that are involved in construction and regulation of isoprenoids, with particular emphasis on insect and plant metabolism.
Isoprenoids are a specialized group of natural products that are essential for a wide range of biochemical processes, including electron transport, sterol biosynthesis, and anchoring proteins to cellular membranes.  In addition, they serve an important role in chemical communication (e.g., pheromones). It is fair to say that isoprenoids are not only ubiquitous in nature but structurally diverse, with over 50,000 distinct chemical structures known.  While isoprenoids are produced and utilized by all organisms, the formation of more complex chemical structures is limited to certain species.  In contrast to all other animals, insects synthesize a broad range of isoprenoid natural products that also occur in plants, making insect isoprenoid metabolism a hybrid between the animal and plant kingdoms.
Most of our current research has focused on insect isoprenoid metabolism.  Specific projects include:
Development of inhibitors of insect isoprenoid metabolism
Characterization of type 1 farnesyl diphosphate synthase in moths
Farnesol oxidation and its role in the construction of insect juvenile hormone
Structure and function of isopentenyl diphosphate isomerase in insects
Isopentenyl diphosphate transport in animals
Teaching Interests
CHE 476/Special Topics in Biochemistry (Insect Biochemistry and Toxicology)
Recent Publications
Barbar, A.; Couture, M.; Sen, S.E.; Beliveau, C.; Nisole, A.; Bipfubusa, M.; Cusson, M.  Cloning, expression, and characterization of an insect geranylgeranyl diphosphate synthase. Insect Biochem. Mol. Biol. (2013), 43, 947-758.
Cusson, M.; Sen, S. E.; Shinoda, T.  (2013) Juvenile Hormone Biosynthetic Enzymes as Targets for Insecticide Discovery. In Ishaaya, I., Palli, S.R., Horowitz, A.R. (Eds.) Advanced Technologies for Managing Insect Pests (pp. 31-55). New York, NY: Springer
Cusson, M., Sen, S.E., Shinoda, T. Juvenile Hormone Biosynthetic Enzymes as Targets for Insecticide Discovery.In Ishaaya, I., Palli, S.R., Horowitz, A.R., Eds.,

 

Advanced Technologies for Managing Insect Pests. (2012), 31-55.

 

Netherlands: Springer.

http://link.springer.com/chapter/10.1007%2F978-94-007-4497-4_3#

Sen. S.E.,

Tomasello, A.

,

Grasso, M.

, Denton, R.,

Macor, J.

, Beliveau, C. Cusson, M., Crowell, D.N.

 

Cloning, expression, and characterization of lepidopteran isopentenyl diphosphate isomerase.

 

Insect Biochem. Mol. Biol. (2012), 42, 739-750.

http://www.ncbi.nlm.nih.gov/pubmed/22820710

Huizinga, D.H., Denton, R., Koehler, K.G.,

Tomasello, A.

,

Wood, L.

, Sen, S.E.,* and Crowell, D.N.*

 

Farnesylcysteine Lyase is Involved in Negative Regulation of Abscisic Acid Signaling in Arabidopsis.

 

Mol Plant (2009), 3, 143-155

.

http://www.ncbi.nlm.nih.gov/pubmed/19969520
Soni, S.P., Ward, J.A., Sen, S.E., Feller, S.E., and Wassall,* S.R. Effect of Trans Unsaturation on Molecular Organization in a Phospholipid Membrane.  Biochemistry. (2009), 48, 11097-11107. http://pubs.acs.org/doi/abs/10.1021/bi901179r
Henry, O., Lopez-Gallego, F., Agger, S.A., Schmidt-Dannert, C., Sen, S., Shintani, D., Cornish, K., and Distefano, M.D.*

 

A versatile photoactivatable probe designed to label the diphosphate binding site of farnesyl diphosphate utilizing enzymes

.

 

Bioorg. Med. Chem.  (2009), 17, 4797-4805.

http://www.ncbi.nlm.nih.gov/pubmed/19447628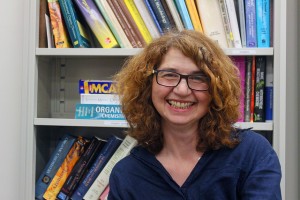 Contact Information
Science Complex Room C214C
sen@tcnj.edu

609-771-3287